Revving Through History: Suzuki's Legacy in Motocross and Iconic Models
Motocross racing has seen the emergence of numerous manufacturers competing to be at the top of their game on off-road tracks, but none can match Suzuki in terms of speed, skill, and dirt. Of these manufacturers, Suzuki stands out as an industry powerhouse thanks to their dedication to performance, innovation, and reliability.

Our comprehensive guide will take you on an enthralling journey through Suzuki motocross history, celebrating some of their most iconic models such as the legendary Suzuki RM250 and versatile DRZ400!
Suzuki Motocross: Early Days
Suzuki entered the motocross realm in the early 1970s when their dedication to excellence led them to conquer new frontiers. In this milestone year, Belgian rider Joel Robert made history by becoming the first non-European rider ever to capture a 250cc World Championship aboard their RH250 motorcycle. This remarkable accomplishment catapulted Suzuki into prominence, signaling their continued dominance within this discipline.
Suzuki continued their breakthrough success in 1972 with the revolutionary Suzuki RH500 and American rider Roger DeCoster's victory as the inaugural American to claim the 500cc World Championship title, cementing Suzuki's legacy and creating an explosion of excitement among motocross enthusiasts everywhere. DeCoster's victory established Suzuki as a formidable brand in the space.
Breaking World Championship Records
Since those ground-breaking victories, Suzuki has stamped their place in motocross history by amassing an astounding 11 world championships in motocross racing. Suzuki riders have continually displayed unrivaled skill, harnessing their machines' raw power to easily tackle even the toughest terrains.
Suzuki succeeded during its prime during the 1970s under Joel Robert and Roger DeCoster's guidance. Still, their dominance continued through subsequent decades under riders such as Gaston Rahier, Eric Geboers, and Stefan Everts, each winning championship after championship for their beloved brand.
Ricky Carmichael remains one of the most iconic figures in Suzuki motocross history, known as the "GOAT." With multiple championship victories on Suzuki motorcycles, including seven straight wins at the AMA Motocross Championship level alone, his unparalleled success ensured the brand would forever influence this sport.
Suzuki Motocross: Historic Models
The Early Years: RM Series Evolution
The RM series stands as a testament to Suzuki's commitment to pushing the boundaries of performance and innovation. The early years saw the introduction of models like the RM125 and RM250, which quickly gained acclaim for their power, agility, and race-winning capabilities.
Throughout the 1980s and 1990s, Suzuki continued to refine their RM models. The RM125 received notable updates in suspension technology, frame design, and engine performance, solidifying its reputation as a dominant force in the 125cc class. Meanwhile, the RM250 underwent significant advancements, embracing the introduction of liquid cooling, improved power delivery, and enhanced handling characteristics.
In the 2000s, Suzuki introduced the RM-Z series, combining the best attributes of the RM models with advanced four-stroke technology. The RM-Z250 and RM-Z450 provided riders with a balance of power, torque, and precise handling, further cementing Suzuki's reputation as a manufacturer dedicated to producing championship-worthy motocross bikes.
Dominating the Off-Road Terrain: DR Series Legacy
In addition to their success in motocross, Suzuki has also left an indelible mark in the realm of off-road riding with their DR series. The DR models, including the iconic DR350 and DR650, have become synonymous with adventure, durability, and versatility.
The DR series has been embraced by riders seeking the thrill of off-road exploration, conquering diverse terrains with ease. From desert sands to rugged mountain trails, Suzuki's DR models have proven their mettle. These bikes boast robust construction, ample ground clearance, and torque engines, ensuring riders can tackle any obstacle with confidence.
Over the years, Suzuki has continued to refine the DR series, incorporating modern technologies, improved suspension systems, and ergonomic enhancements. The result is a lineup of motorcycles that inspire confidence both on and off the road, attracting riders who crave adventure and reliability in equal measure.
Suzuki RM250: Unleashing Two-Stroke Power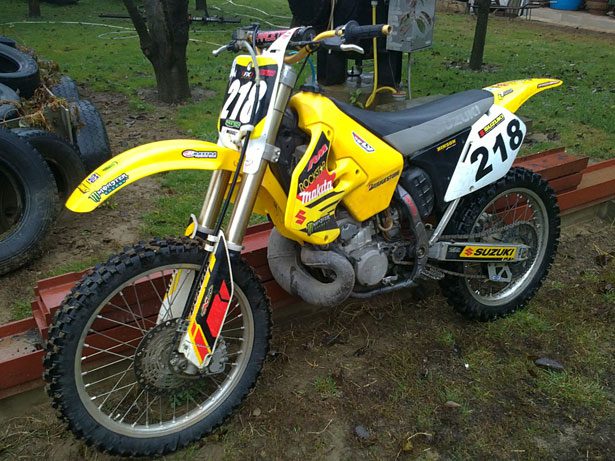 At the heart of Suzuki's motocross dominance lies its legendary two-stroke motorcycle – the Suzuki RM250. Over its extensive evolution, this two-stroke icon symbolizes raw power, precise handling, and championship-winning pedigree.
From its initial iterations in the 70s to its present-day marvels, the RM250 is a testament to Suzuki's dedication to providing riders with machines embodying motocross culture.
Suzuki DRZ400: Versatile Trailblazer
While Suzuki is widely recognized for their motocross expertise, it also understood the need for an all-purpose machine to tackle both tracks and trails equally easily. As such, they created the Suzuki DRZ400 dual sport motorcycle, which perfectly blends off-road capability with street-legal convenience.
The Suzuki DRZ400 stands out as an attractive motorcycle due to its adaptability and dependability. Powered by a four-stroke engine with smooth and controlled power delivery, making it suitable for riders of all skill levels and riding environments. From challenging off-road trails to city street cruising, its remarkable versatility and durability embody Suzuki's commitment to providing riders with machines capable of meeting any challenge that comes their way.
Unparalleled Championship Success: A Legacy of Suzuki Motocross Triumphs
Suzuki's rich history in motocross is adorned with an unparalleled collection of championship victories. Let's take a closer look at some of their most significant triumphs:
World Championships
American Championships
Ricky Carmichael: Seven-time AMA Motocross Champion (2000-2006).
James Stewart: AMA Supercross Champion in 2007 and 2009.
These championships highlight Suzuki's dominance on both the global and national stages. The brand's unwavering commitment to performance, coupled with the exceptional skills of its riders, has resulted in an extraordinary record of victories and a lasting legacy in motocross history.
An Overview of Suzuki Motocross
Suzuki's legacy in motocross is a testament to their relentless quest for excellence and push of performance limits. From their pioneering victories under Joel Robert and Roger DeCoster through Ricky Carmichael today, Suzuki has consistently shown their expertise on motocross tracks worldwide.
Suzuki's legendary RM250 and versatile DRZ400 motorcycles prove its commitment to innovation and engineering prowess. The former's two-stroke power and championship pedigree have cemented its place among motocross fans; its reliability and versatility have won many fans among riders looking for adventure on all terrains.
The Suzuki motocross legacy continues to inspire future generations of motocross enthusiasts and cement their place as one of the sport's premier forces through their dedication to performance, innovation, and winning races, leaving a mark that lives long after its end. Visit QVMX to shop vintage motocross parts to compliment your beloved Suzuki bike!