Revving Through History: The Unstoppable Legacy of Honda Motocross Racing

When it comes to Motocross racing, Honda is one of the most recognizable names in the industry. From the beginning, their quality and performance has set them apart from the rest. Their long history in the sport includes championship wins and innovations that have helped shape modern motocross racing.
They were at the forefront of the early days of motocross, and today, their presence remains as an innovator who pushes the limits of what is possible.
This post will cover the history of Honda Motocross and the unstoppable legacy they've built over the years. Keep reading to learn about their most beloved models and how they came to be one of the most respected brands to date.
Honda Motocross Beginnings
Honda has long been an industry leader in motocross racing, thanks to their dedication to innovation, quality, and performance. Motocross first came to the United States in the 1960s and became more popular in the 1970s, and Honda was among the first manufacturers to recognize its potential.
They began producing motocross bikes to help riders tackle challenging terrains more easily. Honda's early entry into motocross gave them a competitive advantage that paved the way for their promising future – giving rise to years of successful brand representation across various arenas of motocross racing.
The Iconic Honda Motocross Bike: The CR250
One of Honda's defining bikes from its early days of motocross was the CR250. The late-60s model was specifically designed to be light, nimble, and powerful, quickly becoming popular with riders of all skill levels. Reputable performance made the CR250 an invaluable motocross machine and one that's still recognized today.
The Honda CR250's design was innovative, featuring a compact and lightweight frame with excellent maneuverability. The suspension system had adjustable shocks that allowed riders to customize their riding experience to meet individual preferences. Most notably, it had enough horsepower to handle the demands of Motocross racing.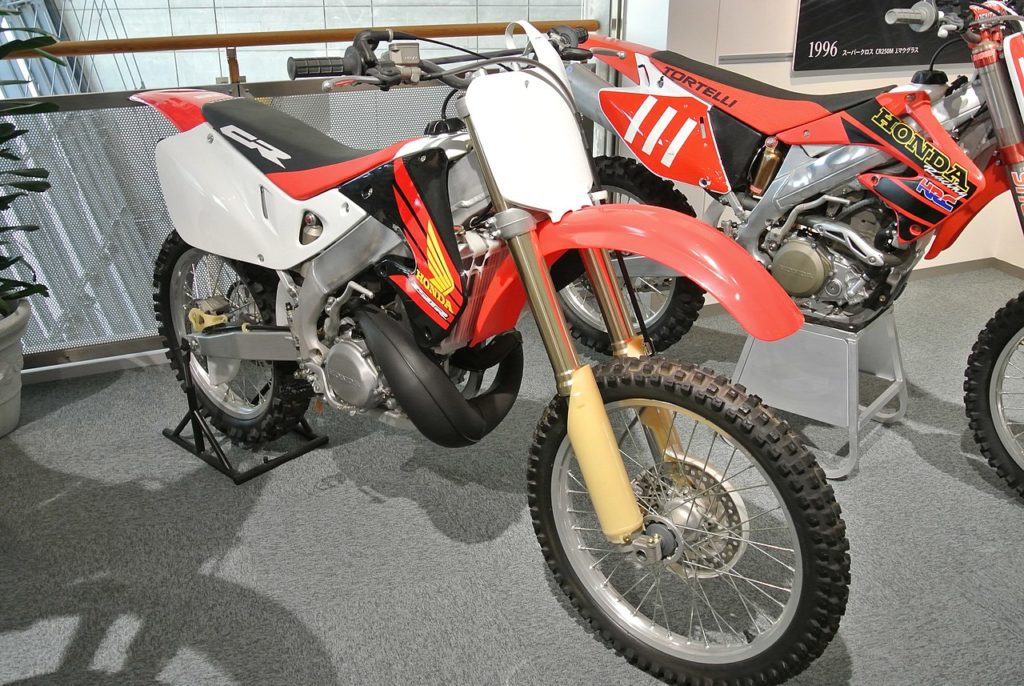 Legacy of the CR250
Today, collectors and enthusiasts value the Honda CR250 highly for its advanced design and incredible performance. The model helped shape an industry and inspired new generations of riders. Its legacy can be seen through various bikes that have followed in its footsteps; manufacturers still strive to produce machines that match its performance.
Honda's Dominance in Motocross Racing
Honda Motocross bikes saw significant success during the 70s and 80s. Thanks to cutting-edge design, high-performing engines, and superior suspension systems from these technologies, Honda won multiple championships and established itself as a top manufacturer.
The CR250 Bike: An Icon of Motocross Racing
The Honda CR250 became one of the most renowned motocross bikes during this era, first debuting in 1973 and quickly becoming a favorite among professional riders.
The first prototype was built in 1971 and sold well into the 2000s. Like many other Honda models, it was renowned for its powerful engine and cutting-edge features. They stopped producing it almost 40 years later, in 2007, and it was replaced with the next model, the Honda CR250R.
The Honda CR125 Motorcycle
Honda Motocross bikes were widely revered during their golden era of racing, specifically the legendary CR125 machine. Unveiled for sale in the 1970s, the model was famed for its power and reliability.
The Red Rocket Elsinore had a 6-speed transmission and an expansion chamber on the front. It blew up in popularity shortly after Marty Smith went on to win an AMA National Motocross championship in 1974, and has remained a fan-favorite ever since.
The TRX 250R ATV: An Innovative Off-Road Racing Platform
Honda's TRX 250R ATV was an exceptional innovation during the 80s. Built specifically for off-road racing, it was constructed with agile handling that made it perfect for Motocross competition. This powerful model was first released for sale in 1986 and quickly became popular among riders, winning several championships and establishing Honda as a significant player in the ATV market.
Honda Motocross Racing: Technology Innovations and Advancement
Honda has long been at the forefront of innovation and advancement within motocross racing, providing numerous technological breakthroughs that have advanced the sport and made it more engaging for riders and spectators.
Honda revolutionized motocross racing with their groundbreaking dual-suspension system on their bikes, first seen in the early 90s. This innovation allowed riders to tackle rough terrain more effortlessly and swiftly – making the competition truly exciting!
Honda also revolutionized motocross riding by introducing fuel injection technology on their bikes in the early 2000s. This allowed greater control over fuel usage for improved performance and greater efficiency.
An Overview of Honda's Legacy in Motocross Racing
Honda's legacy in motocross racing is one of innovation, performance, and excellence. They boast a rich and distinguished history in the sport, with multiple championship wins and technological advancements.
Honda remains an industry-leading name in motocross racing, producing high-performance bikes that meet the needs of riders at every skill level – from amateur enthusiasts to professional racers.
Their dedication to excellence in motocross racing can be seen through partnerships with top riders and racing teams. The brand has sponsored some of the sport's most celebrated riders, such as Jeremy McGrath, Ricky Carmichael, and Trey Canard, among many others.
Their commitment to innovation and performance has played a central role in shaping motocross racing as we know it today. Generations of riders and fans worldwide celebrate it. From its early days in the 1960s until today, Honda will always be revered in motocross racing circles worldwide.
Final Thoughts on Honda Motocross
Since the sport's conception in the 60s, Honda has paved the way for what we know today as Motocross Racing. No matter your skill level, Honda's lineup of high-performance vintage motocross bikes will meet all your needs. Visit QVMX now to explore parts and accessories for the best of Honda's classic models and begin your journey toward excellence today.